Join Us
UA Local 333's HVAC Training: A Comprehensive Five-Year Program
Five Year Plumber's and Pipefitters Apprenticeship
The UA Local 333 Plumbers and Pipefitters apprenticeship consists of 9000 hours of on the job training and 1000 hours of classroom instruction satisfied over a five year period.
Click below for PDF document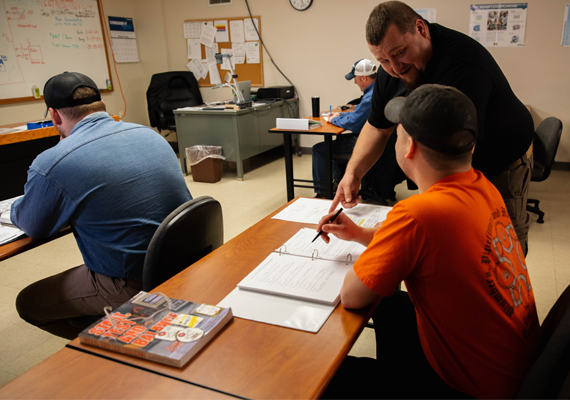 ---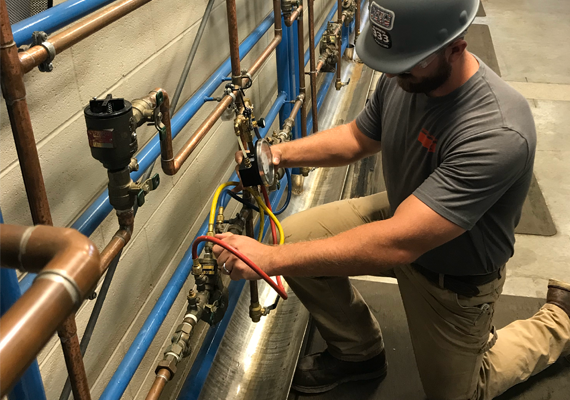 UA Local 333 Cross Connection Control Certification
Code compliances dictated by the State of Michigan, Department of Environmental Quality and the of UA Local 333 Cross Connection Control Certification Program assures only the safest, purest potable water is distributed to homes and businesses of our respective jurisdiction.
Click below for PDF document
---
UA Local 333 Welder Certification
Qualified welders are in demand all over the world. Pipe welding technology is used locally in powerplants, hospitals, schools, universities, manufacturing and most of the local infrastructure. UA Local 333 has adopted the UA's unparalleled welding certification program. This program offers over fifty different pipe welding certifications to cover all applications found in the industry. The continuity protocol assures only proven proficient welders are utilized on these critical sometimes volital systems providing safety and assurance for the end users.
Click below for PDF document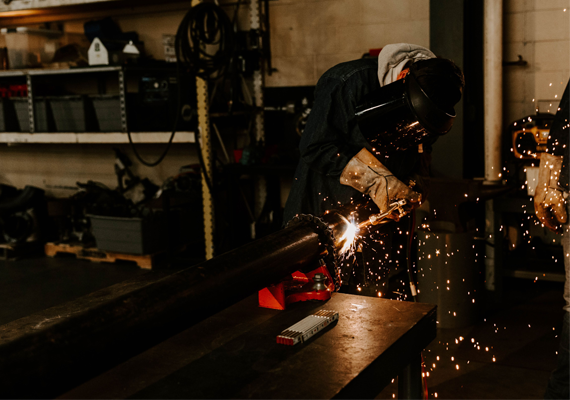 ---
UA Local 333 NFPA Medical Gas and Vacuum Certification
All over major hospitals and health care providers are undergoing significant upgrades within their facilities. The utilities in these facilities are often directly connected for patient use. This is why a comprehensive training and certification program has been utilized by the reliable craftspersons of UA Local 333. Hospital construction uses a disciplined protocol and repetitive verification procedure to assure safety to medical professionals and their patients.
Click below for PDF document
---
UA Local 333 HVACR
The UA Local 333 heating, ventilation, air conditioning and refrigeration professionals are the best in the industry. The comprehensive five year training program equips our service technicians with the skills and education in the latest technology to keep our customers facilities running reliably and efficiently.
Click below for PDF document
---
UA Local 333 Rigging and Hoisting Education
The construction of schools, hospitals, powerplants and manufacturing facilities is a big business; a big business often times requiring mobilization of big components. UA Local 333 understands the value of these components, liability to the contractor and customer but most importantly the safety to the men and women laboring. This is why we commit to a need for rigging and hoisting education. The proper preparation of the site, equipment and material to be handled is covered as well as the physics and mathematical calculations to safely install the components.
Click below for PDF document
Apprenticeship FAQs
View some of our frequently asked questions below.
An Apprenticeship is occupational training that combines on-the-job experience with classroom instruction. Apprentices earn while they learn – their wages usually begin at 40% of the journeyman salary. Journeymen are individuals who have completed their training and hold industry certification.
Apprentices receive pay increases as they learn to perform more complex tasks. When they become a journeyman, they increase their chances of finding a well-paying job in the industry and may become supervisors or go into business for themselves.
The working activities are both active and strenuous and may include much walking, prolonged standing, reaching and lifting. Workers can be exposed to heat, cold, and industrial facilities.
Assemble, install and maintain piping systems that carry water, steam, compressed air, gases and fluids which are needed for manufacturing, heating and cooling.
Reading of blueprints to determine the layout of piping, valves, fixtures and controls.
Welding of piping systems made of materials that include carbon steel, stainless steel, aluminum, brass, plastic, and other special alloys.
Apprentices attend school 2 nights a week, for 3 hours each night, which equates to 108 hours per term, or 216 hours per year. There are also occasional mandatory classes on weekends. Students pay a registration Fee of $100 per term, and books are sold at a 50% discount to Apprentices.
Instruction covers the installation of commercial and industrial process piping systems. Welding certification plays a big part in the education process. Apprenticeship is 5 years long, with the first year considered probationary. Students purchase text material for use in related training classes as required. All on the job training is performed under the supervision of a journeyman.
After the successful completion of 10 terms or semesters (8,000 training hours and 1,080 school hours total), and upon completion and passing of the UA STAR exam, apprentices are referred to the Building Codes Division for State exams. Once all licenses are obtained and verified, the apprentice is re-rated to journeyman status.
Apprentice wages are based on the current contractual journeyman rate. A term is minimum of six months. Once all program requirements are met, the apprentice earns a raise.
Must be 17 years of age to apply, and 18 years of age at the time of registration.
Must have high school diploma or GED
Must have completed one full year of high school algebra, integrated math 2, or equivalent post-high school Algebra 1, course(s) with a grade of 'C' or better or must present current math placement test results from a community college facility indicating a placement level beyond high school level algebra.
Certified transcripts from a post-high school educational institution accredited by a state education agency may be accepted as evidence the education qualification standard is met if the transcript affirms the applicant has completed high school, community college or baccalaureate graduate status or is a GED exam score qualifier.