Five Year Plumber's and Pipefitters Apprenticeship
The UA Local 333 Plumbers and Pipefitters apprenticeship consists of 9000 hours of on the job training and 1000 hours of classroom instruction satisfied over a five year period.
Resource Links: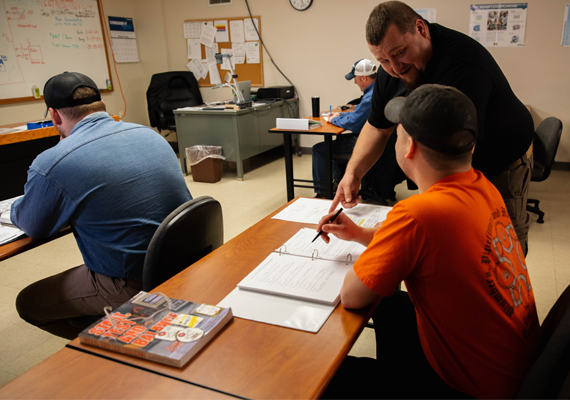 ---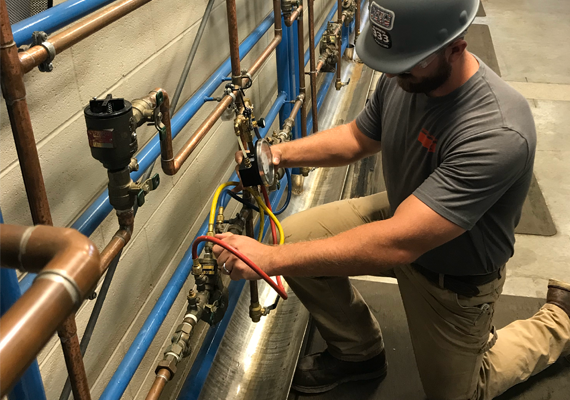 UA Local 333 Cross Connection Control Certification
Code compliances dictated by the State of Michigan, Department of Environmental Quality and the of UA Local 333 Cross Connection Control Certification Program assures only the safest, purest potable water is distributed to homes and businesses of our respective jurisdiction.
---
UA Local 333 Welder Certification
Qualified welders are in demand all over the world. Pipe welding technology is used locally in powerplants, hospitals, schools, universities, manufacturing and most of the local infrastructure. UA Local 333 has adopted the UA's unparalleled welding certification program. This program offers over fifty different pipe welding certifications to cover all applications found in the industry. The continuity protocol assures only proven proficient welders are utilized on these critical sometimes volital systems providing safety and assurance for the end users.
Resource Links: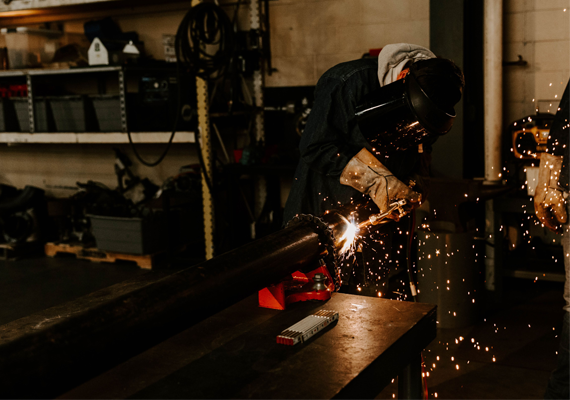 ---
UA Local 333 NFPA Medical Gas and Vacuum Certification
All over major hospitals and health care providers are undergoing significant upgrades within their facilities. The utilities in these facilities are often directly connected for patient use. This is why a comprehensive training and certification program has been utilized by the reliable craftspersons of UA Local 333. Hospital construction uses a disciplined protocol and repetitive verification procedure to assure safety to medical professionals and their patients.
---
UA Local 333 HVACR
The UA Local 333 heating, ventilation, air conditioning and refrigeration professionals are the best in the industry. The comprehensive five year training program equips our service technicians with the skills and education in the latest technology to keep our customers facilities running reliably and efficiently.
Resource Links:
---
UA Local 333 Rigging and Hoisting Education
The construction of schools, hospitals, powerplants and manufacturing facilities is a big business; a big business often times requiring mobilization of big components. UA Local 333 understands the value of these components, liability to the contractor and customer but most importantly the safety to the men and women laboring. This is why we commit to a need for rigging and hoisting education. The proper preparation of the site, equipment and material to be handled is covered as well as the physics and mathematical calculations to safely install the components.
Resource Links:
Apprenticeship FAQs
View some of our frequently asked questions below.
Our Apprenticeship is occupational training in the Plumbing, Pipefitting, and HVAC Service field that combines on-the-job experience with supplemental classroom instruction. When an apprentice applicant is accepted into our apprenticeship program, it is similar to receiving a full-ride, tuition-free scholarship. While learning the trade, they also work for a contractor and earn wages and benefits to support their families for the next 40 years. Apprentices earn while they learn.
An apprentice plumber, pipefitter, and HVAC service tech are responsible for installing, maintaining, and upkeep of a system of pipes and equipment ANYWHERE. The pipe and equipment you will be installing convey steam, water, air and gas, oil, the plumbing of soil, waste, and vent piping under strict code requirements. You will find these systems in industrial buildings, such as refineries, powerhouses, colleges, schools, and commercial buildings such as stadiums and institutional buildings such as hospitals and residential buildings.
This pipe and equipment installation is done by welding, soldering, brazing, rigging, and bolting to connect these systems. These systems can be made from many different materials that include carbon steel, stainless steel, aluminum, brass, plastic, and many special alloys installed under strict codes of installation.
Your job will also include reading blueprints, drafting, and CAD, which determines the layout of piping, valves, fixtures, and controls.
Apprentices attend school 1 eight hour day every two weeks, which equates to 84 hours per period, or 168 hours per year, for five years. Your school instruction will cover the technical aspects of the plumbing, pipefitting, and HVAC service field. While employed with a contractor, you will receive your hourly wage from attending these classes. Students are provided with text material free of charge to use in their related instruction classes. An Apprentice's on-the-job training will be under the supervision of a skilled journeyman. Your on-the-job hours will work towards getting a state plumbing license, backflow certification, medical gas certification, and rigging certifications. Many evening classes are available to apprentices and journeymen to receive multiple weld certifications and specialized skills.
After the successful completion of 10 periods (6 months) or semesters (8,000 training hours and 1,080 school hours total), and upon completion and passing of their final exam, along with a state plumbing license, or a weld cert and rigging certification, an apprentice will graduate to Journeyman status.
Apprentices have the possibility of earning approximately $250,000* during their 5-year apprenticeship.
• Apprentices start out at 45% journeyman scale.
• Raises are given every 6 months if program requirements are met.
• You'll receive medical and dental benefits for their spouse and children after 1 week of work.
• Journey worker salary is approximately $100,000* per year.
• After working 30 years as Journey worker you could accumulate one of the highest paid pensions in the construction industry
*Includes wage and fringe benefits
• Must be 17 years of age to apply, and 18 years of age at the time of starting the apprenticeship.
• Have a valid driver's license.
• Take and pass with a 4 or higher the ACT Work Keys Math, Literacy, Work Place Document exam.
• Must have high school diploma or GED credential.
• Pass a drug test.
If you like to build, understand how things work, solve problems, like variety and have a creative mind, you should consider a career in the pipe trades apprenticeship. If an office environment isn't for you, this might be a better fit. You will be working indoors and outdoors, above and below ground, hot and cold, in all seasons of the year. Your working conditions can be extreme, rugged, high in the air, cramped with uncomfortable positions, physically challenging, and exposed to periodic bad weather. Along with becoming a journeyman in your field, there are many other opportunities for advancement. You can become a foreman, supervisor, superintendent, detailer, or project manager. You can move into a management position if you have the ability. You can become an estimator, salesman, designer or office manager, even a contractor if you so wish. Becoming a Plumber, Pipefitter, or HVAC Service tech is both a challenging and rewarding career that can provide you with a skill set that you can use for the rest of your life. Do you have what it takes?
*Please reconsider applying if you tend to oversleep, have court often, do not have a babysitter every day, and have to get rides to work later than our workday begins, or experience flat tires every week. If you have to hold on to a cell phone all day or will become an expert at your job with no need to learn or take advice after the first day. Must be able to talk and work at the same time. Must also remember to come back to work after lunch. Should not expect GOLD stars for being on time. If none of this applies to you, we welcome your application.
---